We are committed to working responsibly as part of a strategy to deliver value for all stakeholders. This means delivering value in a safe, secure and environmentally responsible manner for all our stakeholders.
Our values
Everything we do is guided by our core values, which we call the '3Rs':
Building Respect: We act with respect for people, the communities we work in, the environment, human rights and the law.
Nurturing Relationships: We act honestly, transparently, and with integrity to develop strong and lasting relationships with all our stakeholders.
Acting Responsibly: We behave fairly and ethically, and are accountable for our actions. We believe in, and act on, our responsibility to care for people, society and the environment.
---
Our Business Principles
Our long-established Business Principles are integrated into our systems and processes. They determine how we work, helping us to behave responsibly to people, to the environment and to society.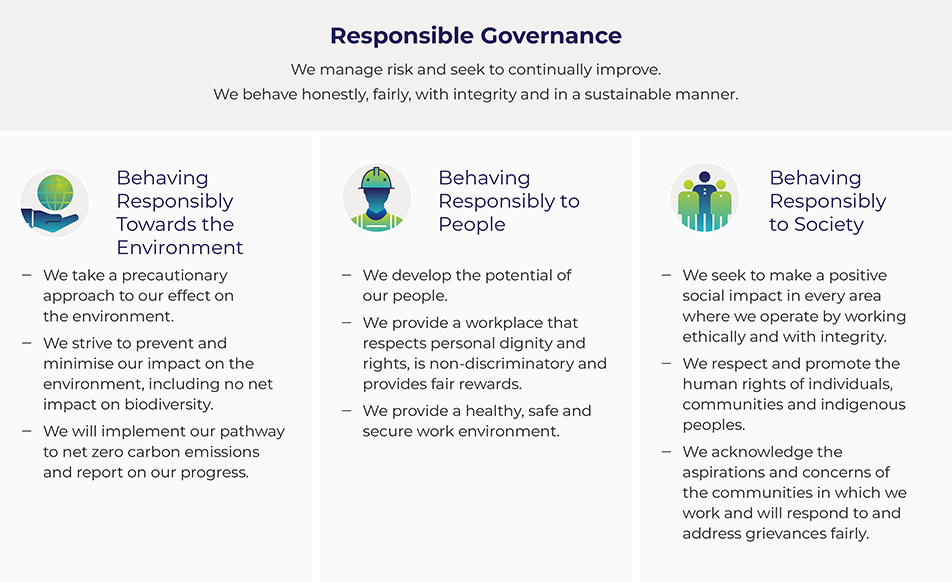 Our Business Principles are integrated into our systems and processes, including our Corporate Responsibility Management System (CRMS) and Capricorn Operating Standards. They are expressed in our Code of Ethics.
---
Prioritising issues
To guide our sustainability programme and support our licence to operate we need to understand the issues that are of most significance, or materiality, to our stakeholders, alongside those that will have the most impact on the Company financially or potentially in terms of risk.
This year we have undertaken a more rigorous materiality assessment which, in line with evolving international reporting requirements, has looked at both external impacts and our own internal view of ESG risks.
Key themes and issues
We have retained the four key themes of Environment, People, Society and Governance under which we have reported previously. The refined list of 25 material issues have been classified under these four themes. For the Materiality Matrix these issues have been ranked from 0 to 10 according to their importance to stakeholders and the level of ESG risk assessed by the Company.
Key findings from the Materiality Matrix
For external stakeholders Ethics, Transparency & Regulatory Compliance; Workplace Safety & Security; and Anti-Bribery & Corruption Practices were the most important issues.
For the Company, the greatest ESG risks were mostly issues listed under the Environment theme, as well as Workplace Safety & Security and Investment in Clean Technologies & Business Innovation.
Further detail on the materiality assessment process and findings, including Materiality Matrix, can be found in the latest Annual Report and Accounts.
---
Working with our stakeholders
Listening to our stakeholders enables us to take their interests into account and respond to their concerns in a structured way.
We seek to gain stakeholder input in many ways:
presenting to investment analysts, investors and shareholders;
feedback from investor, analyst and rating agency assessments;
partnering with contractors and suppliers;
participating at industry events; and
briefing employees.
We respond to individuals and organisations on a wide range of issues, including company strategy and performance, diversity, remuneration, the global energy transition, safety and accident prevention, and biodiversity. At a project level, we develop and maintain bespoke Stakeholder Engagement Plans to help us:
identify stakeholder concerns;
understand risks;
identify and manage actions to mitigate
those risks; and
communicate effectively.
See the stakeholder engagement section in our Annual Report and Accounts for further information