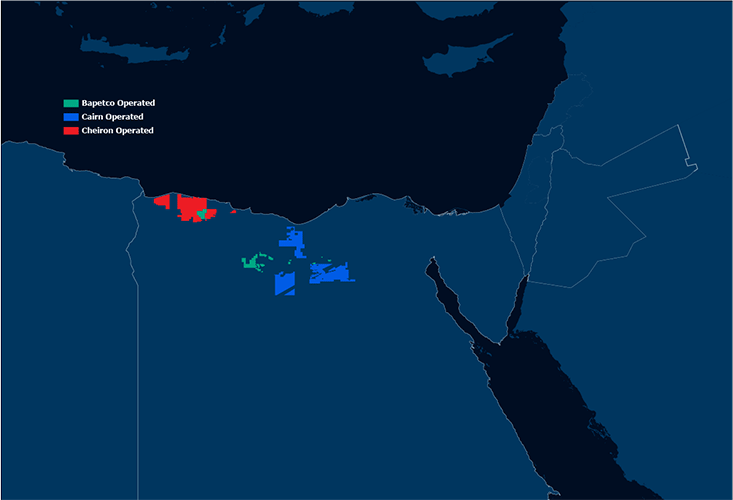 In September 2021, the company together with consortium partner Cheiron, acquired a portfolio of upstream oil and gas production, development and exploration interests from Shell in the Western Desert onshore Egypt.
Production
The producing fields are split over four distinct areas, each with different characteristics and geographies:
The Obaiyed Area (Capricorn 50% WI) contains Egypt's largest onshore gas field and includes the Obaiyed Concession and other producing concessions
Badr El Din (BED) (Capricorn 50% WI) comprises five producing concessions, both oil and gas
North East Abu Gharadig (NEAG) (Capricorn 26% WI) comprises the concession covering the NEAG Tiba area and the NEAG Extension area
Alam El Shawish West (AESW) concession area (Capricorn 20% WI)
Development
Capricorn's working interest Egypt production for 2022 is anticipated to be 37,000-43,000 boepd with production growth through the year meaning that 2022 exit rates are expected to exceed the top end of guidance, benefiting from investment in increased production. With a focus on liquids-rich opportunities, oil and condensate are expected to comprise 35-40% of the production mix.
Exploration
Capricorn's Western Desert exploration interests hold significant short-cycle exploration potential, with nine firm commitment wells and three seismic acquisition programmes across four exploration concessions planned in the next three years.
The objective of the exploration programme is to discover new commercial volumes to replace the producing reserves in order to sustain Capricorn Egypt production from 2025 onwards.
Case Study
Environmental Management in Egypt
Alongside our partner Cheiron, Capricorn completed the purchase of Shell's Western Desert assets in September 2021. Ahead of this acquisition, due diligence was undertaken based on International Finance Corporation (IFC) Standards and good international industry practice references.
The process concluded that the assets have been managed well, with a focus on integrity, major hazard management, and health and safety. We will work with Cheiron, the Egyptian General Petroleum Corporation (EGPC) and other partners to ensure the safety culture established by BADR Petroleum Company (Bapetco) is built upon.
Reducing Emissions
Alongside Cheiron and Bapetco, we undertook a baseline study to assess our GHG emissions impact and identify reduction opportunities. The audit, conducted in late 2021, was the start of our baselining activity for these assets, with a detailed inventory of emissions planned for early 2022. The audit reviewed the accuracy of reporting in the Western Desert operating fields, the protocols used for reporting and any areas of uncertainty that need closing in 2022.
cairn-egypt_0997-related-content.jpg
Committed to the World Bank's Zero Routine Flaring by 2030 initiative, we are working towards eliminating routine flaring from our operations by the end of this decade. Flare-reduction projects are progressing well and additional opportunities have been identified. We are also replacing diesel generators with cleaner-burning gas equipment, and integrating solar power to reduce our reliance on diesel and gas. We will explore other options, including carbon capture and storage and the wider application of renewable power.
Managing Water
Managing water risks effectively is important in the Western Desert, an area of considerable water scarcity. We will focus on using freshwater efficiently and managing water discharge responsibly. This will involve enhanced understanding of water demand; quality and availability of sources; users and stakeholder vulnerabilities; environmental linkages; and discharges or abstractions affecting water resources to inform improvements.
Lorem Ipsum
next-arrow icon
Back to Operations