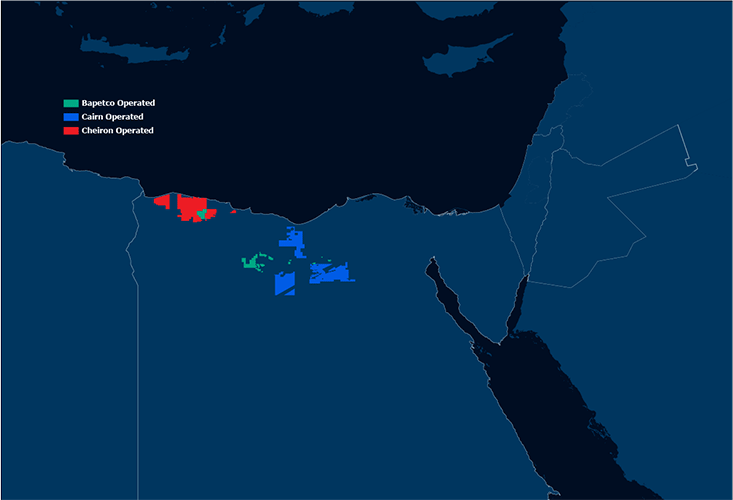 In September 2021, the company together with consortium partner Cheiron, acquired a portfolio of upstream oil and gas production, development and exploration interests from Shell in the Western Desert onshore Egypt.
Production
The producing fields are split over four distinct areas, each with different characteristics and geographies:
The Obaiyed Area (Capricorn 50% WI) contains Egypt's largest onshore gas field and includes the Obaiyed Concession and other producing concessions
Badr El Din (BED) (Capricorn 50% WI) comprises five producing concessions, both oil and gas
North East Abu Gharadig (NEAG) (Capricorn 26% WI) comprises the concession covering the NEAG Tiba area and the NEAG Extension area
Alam El Shawish West (AESW) concession area (Capricorn 20% WI)
Development
Capricorn aims to grow production over the next four years up to 50,000 boepd (Capricorn WI). Opportunities have been identified to significantly extend field life and increase recovery rates through infill drilling, optimised water-flooding and facilities optimisation.
Exploration
In addition to near-field exploration potential within the development areas, the portfolio also includes material potential exploration upside, with significant upcoming activity in existing concessions, as well as three newly awarded Capricorn operated exploration blocks – South East Horus, West El Fayum and South Abu Sennan. The objective of the exploration programme is to discover new commercial volumes to replace the producing reserves in order to sustain Capricorn Egypt production from 2025 onwards.
Back to Operations