Our key strategic goals are all about driving shorter investment cycles and ensuring low break-even costs across our asset base.
In order to deliver this, we maintain a balance sheet that is resilient to price shocks and volatility; we invest to target resources that can be competitive and relevant through the energy transition; and, ultimately, we differentiate ourselves by returning capital to shareholders.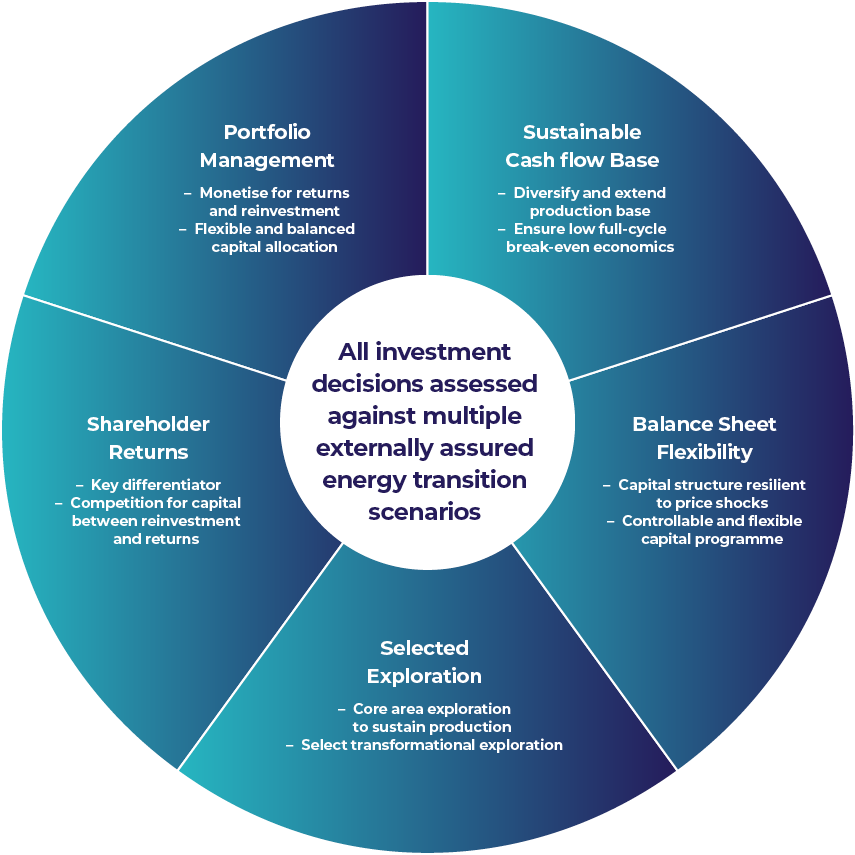 We have always sought to be a proactive portfolio manager in order to optimise capital allocation and retain the appropriate flexibility in our portfolio. This enables us to do two things: firstly, to return cash to shareholders which we see as a key differentiator of the company's investor story. We will continue to ensure that every major capital allocation decision is a competition between reinvesting in the business and returning cash to shareholders. Secondly, it enables us to invest in the sustainability of our cash flow-generating asset base. That is a key strategic focus for us – there are follow-on opportunities in our existing producing assets, but we will also actively seek to diversify and bolster our production base, ultimately putting us in the best position to support future shareholder returns.
We seek to build the portfolio in a way that maintains balance sheet flexibility. We have, and we will maintain, a capital structure that is resilient, and we aim to ensure we are in control of our capital programme so that we can focus on delivering value to the equity side of the balance sheet.
Exploration will remain a core part of our DNA, both to support the future cash flow base through organic reserves replacement, and to generate the potential for transformational events to create further shareholder value. Our allocation of capital to exploration will absolutely be with energy transition relevance as a core focus. We need to ensure that the resources we are targeting through exploration can have a competitive role in a future where global oil demand is projected to be lower than today.
We are positioning ourselves for growth and expansion, but we are committed to doing so in a way that is disciplined, sustainable and relevant against the backdrop of a changing energy mix over time.